If we've learned anything about motherhood in our two years on the job, it's that whether you're an old school, new school, or somewhere-in-between type of parent we all want to raise happy, healthy children in a safe environment. We spend countless hours consulting parenting books, reading advice blogs, scouring the Internet, and turning to sage mommy friends (or strangers in the grocery aisle!) for help. But even when we do our research, we're constantly let down by brands that we're told are safe for our kids then aren't.
What are moms to do if the natural disposables are no better than less expensive commercial brands, if the leading brand of sustainable healthy dishwasher detergent is like using bleach, and the only thing truly "green" about these products is their packaging?
Enter The Honest Company.
Founded by Jessica Alba, The Honest Company was born out of her frustration with the lack of affordable eco-friendly baby and household products that actually lived up to their promises. When she was first pregnant with her daughter Honor, now 3, Jessica remembers discovering that the everyday baby basics were loaded with a toxic soup of chemicals like BPA, PVC, VOCs, perfluorooctanoic acid, phthalates, arsenic, and lead (yikes!). The more she read, the more she learned that the cumulative effect of exposure to these questionable chemicals could be linked back to common childhood illnesses.
She was equally disappointed to find that natural alternatives to these nursery essentials were often priced at a premium and not easy to come by. "I had to shop on the Internet to buy products from Europe or small stores that I had never heard of before. Then I'd have to head to expensive specialty grocery stores in town," she says. She knew there had to be a realistic way to make safe and affordable everyday basics available to the average family—no matter where they lived.
It may be surprising to most that Jessica created an eco-friendly e-commerce brand instead of a fashion house or accessories line, but once you sit down with her you know that The Honest Company is really an extension of what she's committed to and practices in her personal life. "While non-toxic diapers and household products aren't glamorous, creating safe and healthy households for children is what I'm passionate about," she happily shares. And it shows!
At home, Jessica is devoted to green living whether it's furnishing her house with vintage furniture that she's refurbished herself, painting her daughters' bedrooms in non-VOC paint, or preparing homemade organic meals for the family. At work, this same passion and hands-on approach to mothering can definitely be seen everywhere from The Honest Company's overall vision to the smallest product detail. When given a sneak peek of the awesome product line and the chance to better understand Jessica's inspiration and ideas, The Other Sarah couldn't help but nod her head in agreement and excitement over how she conceived of everything with parents in mind. (The only thing bigger than Jessica's passion and The Other Sarah's excitement is Sarah Stewart Holland's jealousy over being stuck in Kentucky and missing out on all the fun during the interview and tour of the company!)
After an afternoon spent chatting about babies, blogs, and BPA with Jessica, one thing became abundantly clear to The Other Sarah. The most important aspect of The Honest Company isn't that it's founded by a celebrity but rather that it's founded by a mom—just like any other. Jessica wanted the convenience of front-door delivery to save on multiple trips to the store. All the bath products are designed spout down so she wouldn't have to furiously shake and spin to get out the last drop. She wanted the eco-friendly cleaning products to actually clean. She wanted an honest brand where moms could have faith that all the products were truly safe. And the mommy choir says, "Amen!"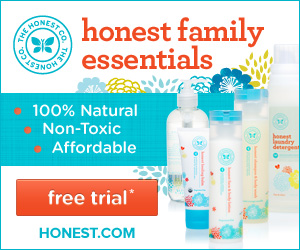 Salt & Nectar thanks Jessica Alba for inviting The Other Sarah to tour The Honest Company headquarters, learn about the company and its products (we can't wait to try the dishwasher detergent and the skull and crossbones boy diapers), and pick her brain about why she became a "momtrepreneur." We look forward to our upcoming blog series with Jessica about motherhood and the alternative choices families can explore that are healthy for their kids and good for the environment.
For more details about The Honest Company and its product subscription service, which launches today, visit www.HONEST.com, call 1.888.862.8818, or follow on Facebook and Twitter at @Honest.
~ The Sarahs
Images courtesy of The Honest Company.